CLUTTERED CORNER
A new face on the scene turning lots of heads, and the Cluttered Corner loves wedding singers. Troy Cartwright and I chat above!
The Cluttered Corner knows there is artistry to storytelling, and this is it. Matt Hillyer performs "If These Old Bones Could Talk" at www.BestinTexasOnline.com.
A big old Texas thank you to our good friends at Freedom Jeep Chrysler for being our initial sponsor of the Cluttered Corner the past year! We couldn't have done it without them!
BART'S GOIN'
Bart Crow's new video, "If I Go, I'm Goin," was released last week exclusively through CMT.com and CMT Pure and then went viral a few days after. You can watch it here: http://smarturl.it/cmtifigo
Filmed in Austin, TX, Bart worked alongside director Phillip Guzman to bring the song to life. The video captures the defeats and triumphs of a couple's relationship, portrayed by Katie Featherston (Paranormal Activity) and Austin Hebert (A&E's Bonnie And Clyde). The song and video also features vocalist Macy Maloy, and can be found on Crow's latest album DANDELION.
THIS IS THE ONLY WAY TO TRAVEL
Roger Creager and band took this on their way to Denver last week…in Roger's plane! How cool is that?! Don't forget to pick up Roger's new CD Road Show out Tuesday!
NEW VIDEO FROM THE TWINS
Those Rankin Twins (April and Amy) are releasing a new video this week for the single "Good Vibes." Looking forward to seeing it! (I'm hoping to see some glitter!)
KYLE TOOK A BREAK
Here's a great picture from Kyle Park where he and family and friends enjoyed some much needed time off…but as you would expect like most artists, there's a guitar in his hand!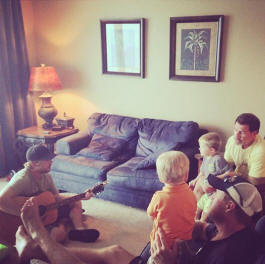 DID SOMEONE SAY BEER?
Starting August 1, the three-day Beer by the Bay Music Festival takes place at Horseshoe Bay with music from folks like Jack Ingram, Bri Bagwell, Charla Corn, TJ Broscoff Curtis Grimes and many more! Plus there will be culinary delights and award-winning Texas microbreweries that make this an event you can't miss! www.hsbresort.com